LAST PAGE
RETURN TO INDEX
---
AERIAL SURVEYS
1970 Roman Tracks
Part Thirty-eight
---

NLAP film MAL/75025 frame 070 136% part enlargement 30th April 1970
A large image is available without text here(141k)
This shows the left hand fork of the plan of the Roman track from part 31. Clearly visible is the outline of the Upper Norman Fort, the 1540 coach road from Upper Wilting farm to Monkham Wood with the parallel Roman track on the other side of the same field.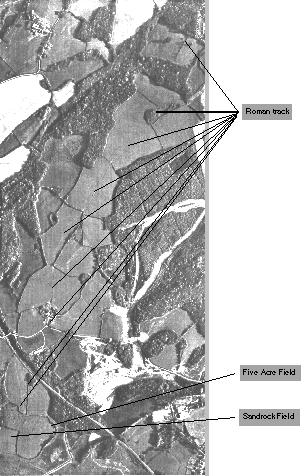 NLAP film MAL/75025 frame 070 136% part enlargement 30th April 1970

A large image is available without text here(166k)
This follows the right hand fork of the Roman track along the ridge to Beauport. The photograph was taken before the track was obliterated by the Queensway (133) in 1970. The new crop clearly shows the line of the old track.
---