LAST PAGE
RETURN TO INDEX
---
BAYEUX TAPESTRY (Continued)
PLATE 5

Part Fifteen
---
PLATE 5
Dinan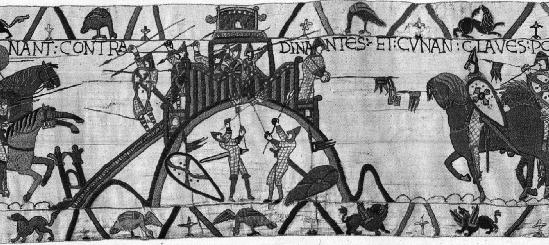 After Rennes the army pursues Conan to Dinan, north-west of Rennes. A cleverly constructed scene shows three stages of the attack in one sequence. On the left is the attack, with the drawbridge up. In the centre two knights set fire to the palisade, whilst on the right the surrender is shown with the keys to the city handed on a lance, as a token of surrender. Here again the ground is detailed with the two defensive mounds, a central tower and palisade holding the defending forces.
Throughout the tapestry men and buildings are positioned on the ground except where there is a good reason to show some form of perspective. Where items are placed directly behind one and other the farthest item is raised off the ground. Similarly I believe that when an object is raised off the ground on its own, rather than in conjunction with others, this indicates that the object is actually higher in relation to the geography of the site in question. This is why Mont St Michael (Plate 2) sits on its own above the action being shown to take place in the estuary below.

I would now like to examine the Tapestry in detail covering the period from the departure at Saint Valery through to leaving the camp on the morning of the Battle. I shall only address those sections of the Tapestry that provide evidence as to the authenticity of the proposed site.
---